Spotlight

Interested in promoting your art, design, lecture, or more?

We are looking to share and promote artworks, projects, and lectures that might provide an interesting forum for all of the SoDA community to stay connected to each other.

---
PREVIOUS PUBLICATIONS
---
"A Still Silence"
ARTIST STATEMENT..
I never thought I would have such fascination with things that were still. My whole life has been filled with a flurry of activity yet I like the stationary. The unmoving almost static objects made me feel calm and centered in my place in the world. With the use of acrylic paint on canvas, I inherently capture the silence of three-dimensional objects that sit in a space unknown to me. Using my fingers, paintbrushes, and pallet knife, I explore the unfamiliarity of each object that I encounter, that I see. The stillness tethers the minimalist nature of the still that produces a coldness that almost feels warm.

Follow A'nnah on Instagram: @
nanaboupitiarts_
---
Caroline Macdonald
"Mirrors"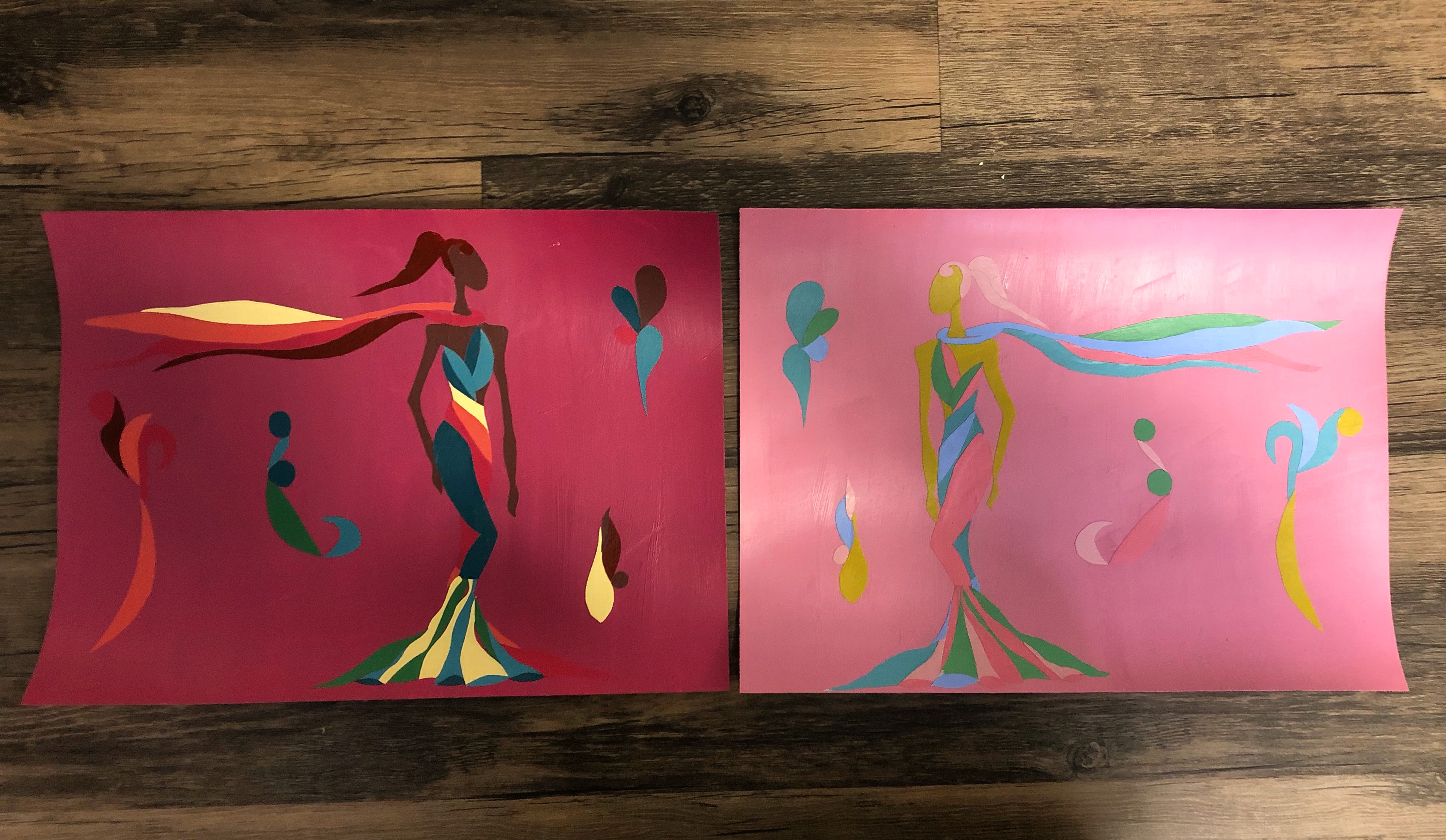 ARTIST STATEMENT..

"The collage works in this series are studies of hue and saturation in design. I took them to a fashion aesthetic with an Art Deco inspiration. As a fashion design major, I am constantly playing with how I can integrate my career interests into my other coursework"

Follow Caroline on Instagram:
@cmacchoreoanddesign
---
"All But Spring"

.
"All but Spring" showcases 3 pieces of Watercolor art that illustrate the the same location across the Potomac River as illuminated during the seasons, except Spring. Summer shows the Canadian geese, fall the deer, and winter the crow. Each fauna moves to a different placement based on the season.

Follow Moira on Instagram:
@moiradenson
---
Nilufar Sizdahkhani
"SKYLINE | Chicago Primary Care Clinic"

ARTIST STATEMENT...

Taking inspiration from the surrounding urban environment of Chicago, SKYLINE Primary Care utilizes a simplified take on industrial design, promoting wellness through elegantly molding a sense of 'homefulness' within the healthcare environment. The use of linear forms & varying contrasts aids in effectively shaping a special experience for both the patient and caregiver. While moments of boldness provide a sense of edge in the design, the implementation of natural materials creates an overall balance that focuses on key design criteria of privacy. sophistication, and simplicity.

Follow Nilufar on Instagram:
@poolgirlnielly
---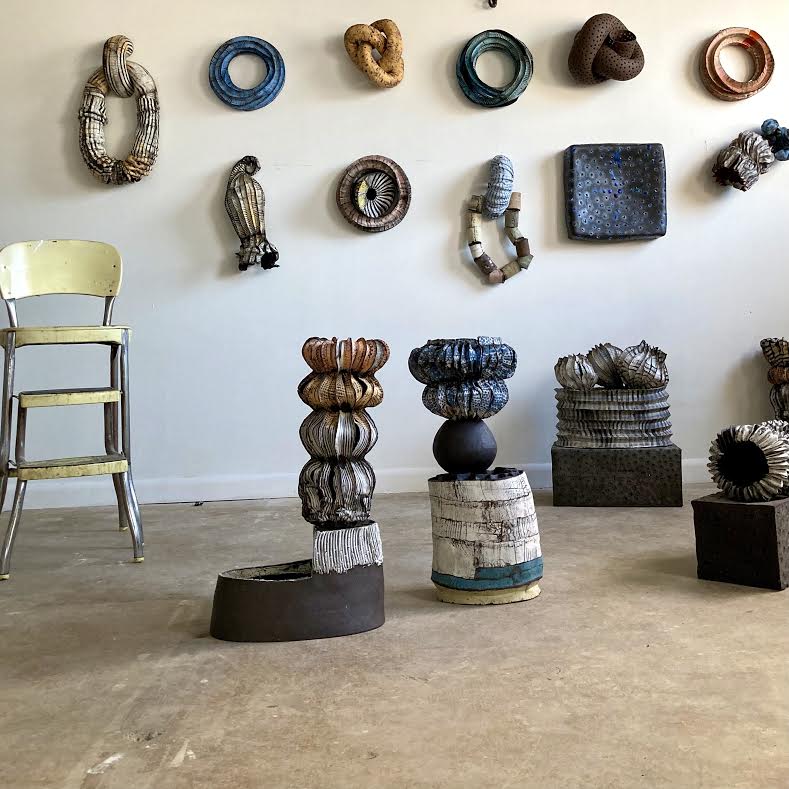 Judit Varga
is a native of Hungary. She studied mathematics and art in college before she went to the Moholy Nagy University of Arts and Design in Budapest where she majored in studio ceramics. Shortly after graduating in 1993 she moved to the US, and eventually set up her ceramic studio in Maryland. Over the last several years she also works as a professorial lecturer of ceramics at George Washington University, in Washington, DC which gives her a great counterbalance for those lonely times in her studio.


Artist Statement
.
"Finding the perfect balance between shape, color, surface and structure is always a challenge, an emotional struggle. The mere existence of this powerful energy makes it so appealing to me to work with clay. My work has a strong connection with nature and the organic structures it is built upon. My inspiration comes from small artifacts I collect on walks or trips with my family. These fragile imprints of nature provide me with a rich visual vocabulary, endless shapes and colors. I work in the solitude in my studio and this peaceful loneliness gives me the perfect stage to work with clay. Sometimes in the silence there is moment of harmony when clay and I understand each other perfectly, both of us know exactly what the other wants to do. These are the moments I long for and this longing draws me back in the studio to open up a new bag of clay and start again"


http://www.juditvarga.net/
Follow Judit on IG:
@juditvargaceramics
---
Ivan Fabrizio Pech

Ivan Pech

, an MU interior design student, used 3D models and perspectives to complete Moshup Dunes.

Moshup Dunes, Hotel inspired in the culture of the island of Martha Vineryard with close attention to native American local stories and legends.

Follow Ivan on Instagram:
@Ivanf_abrizio
---
Diana Dillon

Artist Statement

My portraits focus on women who currently work in or have worked in the sex industry, as either strippers or escorts. My intention in these oil paintings is to describe a sense of strength, beauty, and empowerment, while bringing attention to societal stigmas targeted against women and female sexuality. Sex workers face discrimination and violence, with little protection or support from their gender and communities. While developing the first portrait of the set, I realized that each of these women had also lived through some form of sexual assault or abuse yet has also achieved educational and career goals.

Each model was given a variety of canvas sizes to choose from for their portraits. I found that the size choice reflects each woman's level of self confidence, as well as individuality among the portraits. I have painted in a style influenced by religious symbolism and surreal imagery. Specific artists I have researched include Henri de Toulouse-Lautrec, Frida Kahlo, John Singer Sargent, and Nan Goldin. To prepare for each painting, I composed thumbnail designs from multiple photographic references.

As someone who has lived through assault and abuse I find familiarity with the women I've painted, who have learned to live with these traumas successfully, and confidently over time. Our society objectifies women and monetizes their sexuality while simultaneously stigmatizing sex workers. As a sex worker you are forced to place a value on your body, time, and energy, something a person would not normally consider. Discovering your own self worth and requiring some form of tribute for your time are ways sex workers adapt and grow, despite being a part of an exploitative industry.

Diana's recent work has been published in The Barry Gallery's current exhibition,
2020 Senior Thesis Exhibition.
Follow Diana on Instagram:
@painterly_dianad
MARYMOUNT UNIVERSITY
FINE ARTS PROGRAM